2017 Meeting House Events
Sunday, December 3rd, 6:15 p.m. – Candlelight Vespers – Bringing Christmas Home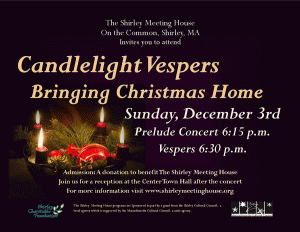 Please join us for our final program of the 2017 season. Candlelight Vespers has become a tradition for many of those who attend and are part of the program. This year's theme, "Bringing Christmas Home," will bring back memories of holiday seasons long ago. Our musical selections include new arrangements of familiar carols and songs as well as original pieces that remind us of our family celebrations. The stories and poems touch on Chanukah celebrations, the Christmas animals, a newspaper article by E. B. White, A Visit from St. Nicholas and a scene from Dickens "A Christmas Carol."
The Meeting House Chorale will be under the direction of Bernard Crane and accompanied by Rene Minalga-Rheault. Our storytellers include James Quinty, Michael Roy, Eben Goldman, Kevin Johnston and Mark Jefferies. Joining us this year are singer/songwriters Nancy Beaudette and Christine Hatch. Our Shirley musicians, Victoria Landry, Emilie Faucher, Andy Sullivan, Lou Garafalo, Janice Yancy and Holly Haase, will offer some of their favorite holiday selections. We also welcome the Ayer/Shirley Middle School Chorus under the direction of Marianne Cooper, Lou Garofalo, saxophone, Laura Finkelstein, flute and Lois Toeppner, organist.
The Vespers program begins at 6:30 but we invite to come early and enjoy an organ prelude of Holiday Selections on our Stephens Tracker Organ with Lois Z. Toeppner.
Admission is a donation to benefit the maintenance and upkeep of The Meeting House. Everyone is invited to the Center Town Hall after for concert for cider, dessert and time with good friends.