2018 Meeting House Events
Sunday, May 6th, 10:00 a.m. – 3:00 p.m.  Tours of the Shirley Meeting House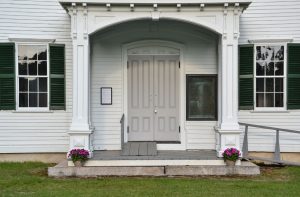 Have you ever wondered what hidden treasures can be found in the Shirley Meeting House?  Come join us on Sunday, May 6 for a tour of the meeting house and find out what makes this building so historic and so unique.
The free tours begin at 10:00 AM and run until 3:00 PM. They begin when you arrive and can be tailored to your interests. Plan on at least one-half hour to see the most interesting features of the building. Perhaps you are interested in old books. We have close to 1,600. Or you would like to see how an 1847 tracker organ works and play a few notes on it. If you want to see 1773 colonial wood frame construction you can visit the attic and view the huge timbers under the roof. These are only a few of the hidden treasures to be seen. Rain or shine we hope to see you on May 6. This event is being co-sponsored with the Freedoms Way National Heritage's month-long program featuring Hidden Treasures throughout north central Massachusetts and southern New Hampshire.
Sunday, May 6th, 4:00 p.m. – Spring Concert, directed by René Rivers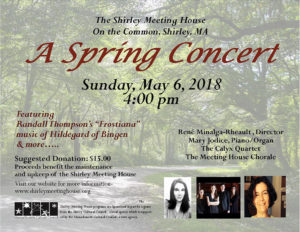 The Shirley Meeting House welcomes Shirley native René Minalga-Rheault  home to conduct a musical program featuring Randall Thompson's "Frostiania."  It's not often a person gets to conduct in their hometown and we look forward to this program. The chorus will be made up of Rene's quartet, The Calyx Quartet, members of Meeting House Chorale and other local musicians, with piano accompaniment by Mary Jodice. Ms. Jodice will also perform on the Meeting House Steven's Tracker Organ. The concert promises to be a special treat for all to enjoy.
Randall Thompson's Frostiana: Seven Country Songs, is a seven-movement choral piece based on the text of seven of Robert Frost's poems: The Road Not Taken, The Pasture, Come In, The Telephone, A Girl's Garden, Stopping By Woods on a Snowy Evening, and Choose Something Like a Star.  Suggested Donation: $15.00 Proceeds to benefit the Shirley Meeting House.
Saturday, June 16th, 7:30 p.m.  – Broadway at the Meeting House
The Shirley Meeting House has gathered together a group of talented performers who are waiting to share some of their favorite Broadway songs with you. Join us as we welcome you to "the theatre, to the magic, to the fun, where painted trees and flowers grow, and laughter rings fortissimo!"
Saturday, October 13th, Stories & Tall Tales
Saturday, November 10th – Veteran's Day Program – Tin Pan Alley
Sunday, December 2nd – Candlelight Vespers
Sunday, December 9th – A Christmas Carol