2018 Meeting House Events
Sunday, December 2nd – Candlelight Vespers – Christmas Is…..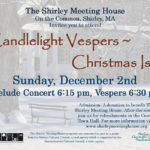 Please join us in the peace and tranquility of The Shirley Meeting House on Sunday, December 2nd for our 15th Annual Candlelight Vespers. This year's theme is Christmas Is…  The program will touch on things that reflect the true meaning of the season and the peace it offers us. The doors will open at 6:00 pm and organist Lois Toeppner will share traditional songs and carols performed on the Meeting House Stevens Tracker Organ. The Vespers program begins at 6:30 pm. The Meeting House Chorale will be under the direction of Bernard Crane and accompanied by pianist Cheryl Townsend. Musical performers include Nancy Beaudette, Christine Hatch, Emilie Faucher, Andy Sullivan, Holly Haase, Victoria Landry and the Ayer/Shirley Middle School Chorus under the direction of Marianne Cooper. Our readers/storytellers are Michael Roy, Kevin Johnston, James Quinty, Mary Ellen Jones with Doris Huxley and Heidi Garafalo. You will also be a part of the program as we invite you to lift your voices in song. Following the program all invited to the Center Town Hall for warm cider, dessert and time with good friends and family. A donation to benefit the maintenance and upkeep of The Meeting House is appreciated and welcome. We look forward to seeing you.
Sunday, December 9th, 6:30 p.m. – A Christmas Carol – Mark Jeffreys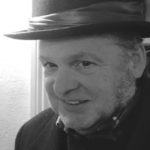 The Shirley Meeting House welcomes back actor Mark Jeffreys to perform his one-man show of Dickens' "A Christmas Carol. From Scrooge to Tiny Tim, he will bring 18 characters to life before your eyes in this classic holiday tale of humanity and redemption. Join us and feel  the joy and redemptive power of Christmas as told in the timeless tale of Ebenezer Scrooge, the infamous miser who is shown the error of his ways and reformed by four spirits. Suggested Donation: $15.00. Proceeds to benefit the maintenance and upkeep of the Shirley Meeting House.
Meeting House programs are sponsored in part by a grant from the Shirley Cultural Council, a local agency which is supported by the Massachusetts Cultural Council, a state agency.