2018 Meeting House Events
Saturday, June 16th, 7:30 p.m.  – Broadway at the Meeting House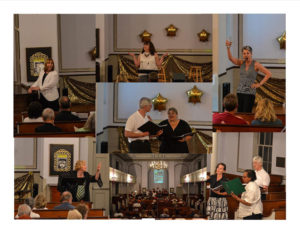 Have you ever wonder what inspires the theme for a Musical? Come to the Shirley Meeting House on Saturday, June 16th at 7:30 p.m. and learn where some of Broadway's well known and not so well known musicals came from. You will be surprised.
Local musicians of all ages have picked a favorite song from shows that include Sound of Music, Man of La Mancha, Waitress, Dear World, Hair, Sweet Charity, Nunsense, Cats, City of Angels, Jekyll & Hyde, You're a Good Man Charlie Brown and more. Performing are the Ayer/Shirley Middle School Chorus, ArtsNashoba (a special performance of a piece from their recent production of Reigning Cats & Dogs), Andy Sullivan, Samantha Sickorez, Bonnie Marchesani, Victoria Landry, Emilie Faucher, Bernard Crane, Marianne Cooper, William Annand, Shiela Mitchell, Chris Govang, Carolyn Cooper, Roy Ellis, Diane King, Jennifer Shea and Holly Haase. Our Master of Ceremonies is Mark Jefferies and our accompanist is Emily Murphy.
As best said in the musical Applause, join us as we welcome you to "the theatre, to the magic, to the fun, where painted trees and flowers grow, and laughter rings fortissimo!" A suggested donation of $15.00 can be given at the door. Proceeds will benefit the maintenance and upkeep of the Shirley Meeting House. After the program everyone is invited to the Center Town Hall for refreshments and to meet the performers.
Saturday, July 7th, 7:00 p.m. – Catherine O'Kelly, Classical Guitar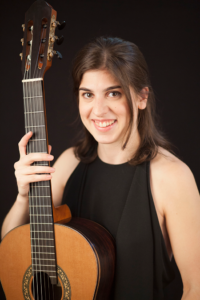 Catherine is an emerging artist, both as a soloist and as a chamber musician. As a member of Tedesco Duo with flutist Arielle Burke, she has performed at The Rivers School Conservatory for the Seminar on Contemporary Music, The Shirley Meetinghouse and The Saybrook at Haddam. As a soloist she has performed at numerous venues including The University of Connecticut, The Rivers School Conservatory and The Shirley Meetinghouse, and she has performed as the solo guitarist in Four Rhodian Scenes by Thomas McGah with The Hartt School's Capitol Winds. To learn more about Catherine please visit her website.
Suggested donation: $15.00
Saturday, September 15th, 6:00 pm – In My Father's House Their Are Many Mansions
Saturday, October 13th, Stories & Tall Tales
Saturday, November 10th – Veteran's Day Program – Tin Pan Alley
Sunday, December 2nd – Candlelight Vespers
Sunday, December 9th – A Christmas Carol
Meeting House programs are sponsored in part by a grant from the Shirley Cultural Council, a local agency which is supported by the Massachusetts Cultural Council, a state agency.