2018 Meeting House Events
Sunday, October 21st, 4:00 p.m. Expressions of Light & Dark – Ensemble Lyrae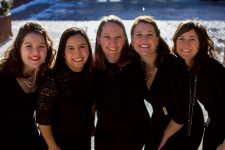 "Expressions of Light and Dark" probes the subtleties found in all visions of light and shadow. Through works by Felix Mendelssohn, Zoltán Kodály, Gustav Holst, Adam Guettel, Ola Gjeilo, and many more, these degrees of luminosity will evoke a sensational experience for audiences. Ensemble Lyrae continues to introduce new music for women's voices through the commission of Brian John and his setting of "You, Darkness" with text by Rainer Maria Rilke, and a fresh interpretation of Disney's "All in the Golden Afternoon" by Eva Kendrick.
Rachael Chagat, soprano, Samantha Dearborn, soprano, Grace Allendorf, mezzo-soprano, Michelle Deluise, mezzo-soprano and Emily Murphy, piano.  Inspired by the natural beauty and brilliance of the constellation Lyra, Ensemble Lyrae brings together five uniquely and highly talented musicians. While each shines as a soloist, together, these women form deep connections in performing duets, trios, and quartets.
Saturday, October 27th, 6:30 p.m. to 9:00 p.m. – Halloween Party & Ghost Walk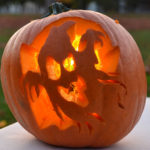 Ghost Walk on the Common until 8:30 p.m.,
Stephanie Beach Magic at the Shirley Meeting House,
Spooky Room, Crafts, Snacks, Drinks and
Boogie to the sounds of DJ Bob Wright at the Center Town Hall
Saturday, November 10th – The Veteran's Day Program has been cancelled.
Sunday, December 2nd – Candlelight Vespers – Christmas Is…..
Sunday, December 9th – A Christmas Carol – Mark Jeffreys
Meeting House programs are sponsored in part by a grant from the Shirley Cultural Council, a local agency which is supported by the Massachusetts Cultural Council, a state agency.