Donald A. Reed – 8/25/33 – 7/4/2017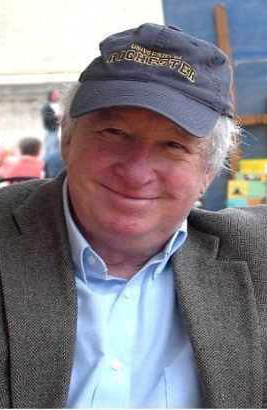 The members of the First Parish Meeting House Preservation Society, Inc.  mourn the loss of long time member Donald A. Reed. Don was an important part of the restoration of the Shirley Meeting House and we will miss his insight, humor and wit. A service in his honor will be held on Friday July 14, 2017, in the Shirley Meeting House at 1:00 pm, followed by interment in the Center Cemetery. Afterwards a celebration of his life will be held at the Center Town Hall.
Below is the obituary from Anderson Funeral Home:
Born August 25, 1933, in Rochester, NY, Don graduated with a BS in Art Education from the University of Rochester and a Masters in Architecture from the Harvard Graduate School of Design.
As a young man, Don served in the US Navy doing deep sea salvage off the ocean going tug, the USS Luiseno. Professionally, Don was a successful artist, architect and renderer. His worked on projects from the North Slope of Alaska to the Ted Williams Tunnel in Boston, and from Disney's Epcot Center to England. Don spent his lifetime actively engaged by the world around him and the universe beyond it.
He was a voracious reader and had deep knowledge on a wide range of subjects from art and architecture to astrophysics. He was an intellectual who loved nothing better than a deep conversation with a friend, family member or a colleague, always searching for common understanding and connection.
Don was an accomplished painter, known for his plein air landscapes, portraits of his loved ones, and paintings of many of the historic buildings near his home. He was an active and beloved community member of Shirley, Massachusetts where he lived for over 35 years, serving on the boards of the town's Historical Society and Council on Aging.
Don is survived by his wife Sally, the mother of his children and first wife, Judy Damron, his children David Reed and Martha Baker (Jeffrey), Sigrid Pickering and Gustav Konitzky, grandchildren Jason Reed (Teri), Sarah Jane Reed (Simon), Emma Baker and Sam Baker, Sasha Konitzky, Brigette Konitzsky, and Gretchen Konitzky, Cate Pickering and Susan Pickering, great grandson Ethan Reed, as well as brothers in law, John Suter and Ralph Rubinstein and many beloved nieces, nephews and dear friends.
Don was predeceased by his parents, Mayfred and Basil Reed, and his sisters Mary Catherine Rubinstein and Anne Suter.