2019 Meeting House Events
Saturday, December 7th, 9:30 am – Holiday Piano Recital – Students of Silvia Bota
Sunday, December 8th – 16th Annual Candlelight Vespers – The Gift of Giving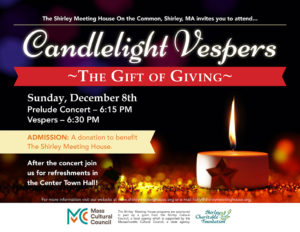 As we move towards the holiday season we find ourselves thinking of our lists of presents to buy, things to do and places to go. The hustle and bustle of the season can be both daunting and overwhelming to some. On that note we invite you into the peace and tranquility of The Shirley Meeting House for our 16th Annual Candlelight Vespers program. Relax in the warmth of the Shirley Meetinghouse and listen as we offer you our gifts of story and song. Be prepared lift your voice as we all join in singing a few holiday favorites. The evening begins at 6:15 with a  prelude concert featuring organist Lois Toeppner and flutist Laura Finkelstein. After the program please join us at the Center Town Hall for refreshments and time with friends and family. Admission: A donation to The Shirley Meeting House.
Saturday, December 14th, 7 pm – A Christmas Carol – Mark Jeffreys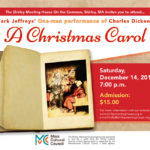 Charles Dickens' "A Christmas Carol" is considered by many to be one of the greatest Christmas stories ever written. Dozens of movies have been made of the story along with countless stage reproductions. The Shirley Meeting House welcomes actor Mark Jeffreys for an encore performance his one-man show of Dickens' "A Christmas Carol." From Scrooge to Tiny Tim, he will bring 18 characters to life before your eyes in this classic holiday tale of humanity and redemption. Join us and feel the joy and power of Christmas as told in the timeless tale of Ebenezer Scrooge, the infamous miser who is shown the error of his ways by four spirits.  Admission: $15.00. The proceeds benefit the maintenance and upkeep of the Shirley Meeting House.
Meeting House programs are sponsored in part by a grant from the Shirley Cultural Council, a local agency which is supported by the Massachusetts Cultural Council, a state agency.